Arians Stands Firm On Chris Godwin
May 31st, 2019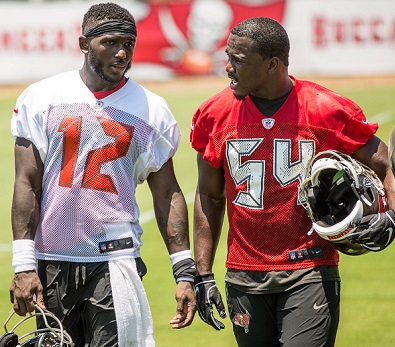 Your new Buccaneers slot receiver has 10 spring practices under his belt, all under the watchful eye of new Bucs offensive guru and head coach Bucco Bruce Arians.
Back in March, Arians said he sees wide receiver Chris Godwin as a player who never has to come off the field, labeling him a "close-to-a-100-catch guy."
Today, Joe asked Arians how his impression of Godwin has changed after all these practices.
"It really hasn't. I had high expectations and they're even higher now," Arians said of Godwin. "So he hasn't done anything to diminish what I thought he would be. As he learns to play in that slot and read things a little bit more, he's made great progress. I think I'll stand by my 100-catch pronouncement."
Joe found it very interesting that it was Arians who brought up the 100-catch mark, not Joe.
That's a bold call for an inexperienced slot receiver. Joe hopes Godwin can adapt quickly, and 100-percent embrace the slot at the same time.
Joe can confidently say that Godwin considers himself a No. 1 receiver and an outside guy. (That is where the biggest money is.) But Joe has no doubt he'll give the slot everything he's got.