"Get In The Backfield And Make A Play"
May 28th, 2019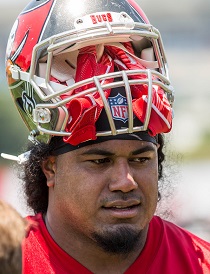 Bucco Bruce Arians was adamant today that the Bucs will be a tough team to run on in 2019.
That hasn't been the case since 2015, when the Bucs were best in the NFC at 3.4 yards per carry allowed.
Yes, some good things were happening under Lovie Smith. Gerald McCoy, Akeem Spence and Clinton McDonald were a ferocious threesome against the run in the middle of the Bucs' defensive line.
Arians said today that new manbeast defensive tackle Ndamukong Suh is powerful against the run, "a great run stopper," and a healthy Bucs defensive tackle tandem will change the game for offenses.
"With he and Vita, it's going to be really tough to run the ball inside against us. But they're both going to be able to rush the passer for us effectively," Arians said.
Everything will be about penetration within the Arians-Todd Bowles aggressive style.
"Get in the backfield and make a play," Arians said. "Make two guys block you penetrating rather than standing on the line and holding guys for linebackers. We're not that style of defense, but we do it anyway we do it anyway because of penetration."
Suh, 32, should be good for 24-year-old Vea, Arians added.
"All he's got to do is ask him questions. You know, you bring in a veteran guy, if a young guy doesn't ask him question, there's something wrong. [The young player] thinks he knows it all, but he's not that type of kid. So I think it would help."
Joe is optimistic. Vea looks great and should benefit from fresh coaching and a fresh Pro Bowler beside him.
Just imagine if the Bucs can back to that beastly run defense they had in 2015. That'll have them counting big time on their very young secondary.
Spectacular Bucs run defenses in 2012 and 2015 were not balanced by a healthy pass rush and good secondary play. Hopefully, this is the year the Bucs find that balance.