Finding A Fresh Identity
May 27th, 2019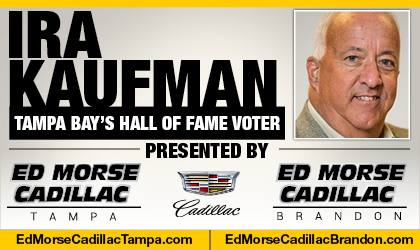 BY IRA KAUFMAN
Let's get real, Buc fans.
That's what we do every day on this growing website, which is the primary reason why our pages and podcasts are the No. 1 destination for news and honest views about this franchise.
Unlike some other outlets, we aren't beholden to anyone. In the spirit of telling it like it is, let's take a look at an embattled position group that has much to prove this fall.
The No. 1 reason Tampa Bay supporters are bullish about their team is a new coaching staff is in place, headed by a proven winner in Bruce Arians. He has surrounded himself with a large staff, many of whom have worked with Arians in previous locations.
Better coaching is expected to yield better results – especially along an offensive line that returns virtually intact.
The Bucs have a lot of money invested in Donovan Smith, Ali Marpet and Ryan Jensen. They would like a better return on that investment.
Second-year pro Alex Cappa will get every opportunity to win the job at right guard, where Caleb Benenoch somehow managed to stumble his way to 16 starts. Demar Dotson, the longest-tenured Buccaneer, returns at right tackle for what is likely his final year in pewter.
The only significant addition in the offseason is Earl Watford, who will compete against Cappa. Watford goes back a long way with Arians, but he was cut by both the Jaguars and Bears in recent years and didn't start a game for the Browns last season.
Offensive line coach Joe Gilbert and run game coordinator Harold Goodwin have to squeeze more juice out of this underperforming unit.
Flushing Finesse
One of Dirk Koetter's biggest sins in three years as head coach was an inability to develop a credible ground game.
That stunted Jameis Winston's progress and made the Bucs a softer team to play against. Nobody knew that more than Koetter himself.
"No matter what your identity or your perceived identity is, your identity when you really get on the field has to start with the offensive line," Koetter said last week in his new role as Atlanta's offensive coordinator.
The Falcons drafted two offensive linemen in the first round and signed four more in free agency to play a more physical brand of football.
There's too much finesse on this Buc roster and not enough grit.
That's one reason Ndamukong Suh was signed.
The Bucs need a Suh to emerge on the other side of the trenches. Drafting and developing guys up front with the right stuff has proven to be a big challenge around here.
Since 2000, the only homegrown offensive lineman to make the Pro Bowl is Davin Joseph. Spanning four general managers and six head coaches, that's hardly a track record to be proud of.
A big test will come early when the 49ers visit in Week 1, with DeForest Buckner, Dee Ford and rookie Nick Bosa all taking aim at Winston.
"Speed and violence affect the quarterback and make people do stupid things before they want to," says San Francisco coach Kyle Shanahan.
The Watford Files
The Bucs must be ready with an answer. Unlike last season, when Tampa Bay enjoyed inordinate health up front, depth will be tested. Perhaps Watford's versatility will help.
"I call Earl the Swiss Army knife," says Goodwin. "He's played a lot of positions. He gives me comfort from the standpoint that I know I can put him on the grass at any position and he's going to give me all he has. That's a little bit relaxing for me. I would like him to always available to me, from the standpoint that he could be a starter or not a starter."
You can't say Koetter abandoned the running game during his tenure. He tried for offensive balance, but the 2018 Bucs gained four or more yards on their first-down runs only 20.6 percent of the time.
That's bad for Pop Warner.
Plugging that yawning hole at right guard is a first step.
"We've got to figure out where does Benenoch fit, where does Capp fit?" says Gilbert. "I think those will be the pieces of the puzzle that we've got to put together, put them in the right spot to have the chance to be successful. Cappa's a guy, if the crap hits the fan, he could play tackle if he had to. But right now, in my mind, I envision him at right guard."
This defense has been overhauled. Todd Bowles has lots of new toys to play with.
Not so with an offensive line that remains relatively stable. Gilbert and Goodwin are on the clock.
The Bucs need a fresh identity.
It starts right here.