Bucs Finalizing Deal With Ndamukong Suh
May 21st, 2019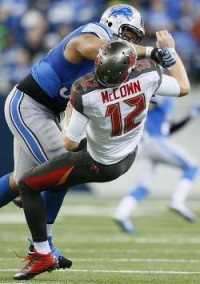 Joe's not sure the Bucs got better over the past 24 hours, effectively swapping Gerald McCoy for Ndamukong Suh.
But things certainly got a lot more exciting on a few fronts.
NFL Network is reporting this afternoon that the Bucs are close to finalizing a contract to bring Suh to Tampa on a one-year contract after McCoy was cut last night.
Suh is fresh off a strong postseason run with the Rams, following a three-year stretch with the Dolphins that was rather underrated. He's missed just two games since he was drafted No. 2 overall by the Lions in 2010, one slot before McCoy.
The five-time Pro Bowler turned 32 in January and has experience in a variety of defenses.
Joe sees Suh as representing major culture change (he doesn't carry the stench of endless losing) and he carries the sweet smell of a postseason performer.
No, he's not the facestomper nasty player he used to be, but he's definitely tough as nails. And Joe likes that Suh has experience playing in the extreme Florida heat, even making the Pro Bowl during his second season with Miami.
Did the Bucs get better swapping McCoy and Suh? Joe won't go that far today. But it's a good move for the sake of locker room change, as well as the Bucs likely saved a few million bucks and got a guy with a great durability history.
A couple of fun facts on Suh: The guy he most notoriously stomped on during his Lions days? That would be Bucs backup offensive lineman Evan Smith.
Also, Suh and McCoy were solid friends. Did McCoy tell Suh this was a great place to play?