Bucs Awarded Jets Tight End On Waivers
May 21st, 2019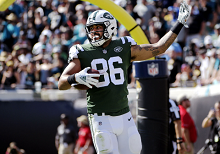 Now this is a minor surprise.
And it might trouble Canadian Bucs fans.
Today Tampa Bay was awarded tight end Jordan Leggett off waivers after the Jets cut Monday. The Bucs and four other teams put in a claim, per ProFootballTalk.com.
A fifth-round pick in 2017, Leggett blew his knee out as a rookie and didn't play in that regular season. He caught 14 balls last year with a touchdown and 114 yards receiving, in addition to special teams work.
The reason Joe mentions the Canadians is because Bucs third-year tight end Anthony Auclair is the pride of college football in Canada, arriving to Tampa Bay undrafted in 2017. He has nine career catches and is mostly a special teams threat.
Leggett certainly is a threat to Auclair's job security; he has two seasons remaining on a very inexpensive rookie contract.