Just The Beginning
May 22nd, 2019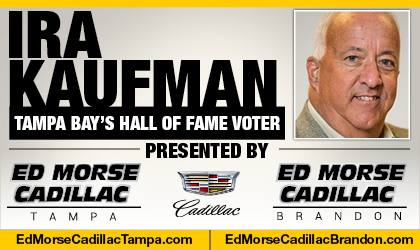 BY IRA KAUFMAN
The Bucs have taken a wrecking ball to a dismal defense, and that's a good thing.
You knew massive changes were coming on that side of the ball as soon as Bruce Arians made his first hire, naming Todd Bowles as defensive coordinator. Those two worked wonders for two years in Arizona after Arians inherited a 5-11 club that couldn't make key stops.
The Cardinals ranked seventh in scoring defense in 2013 and moved up to fifth the following season as Bowles was named the NFL's Assistant Coach of the Year.
Those accomplishments led to a head coaching job with the chaotic Jets, but now Bowles is back doing what he does best — shaping a defense in his image.
Versatile. Aggressive. Fast. Ornery.
Nobody does ornery better than Ndamukong Suh, who generates turnovers and suspensions in equal measure.
The release of Gerald McCoy was the latest step in this dramatic overhaul, and there's no reason to believe Bowles and Arians are content with the current roster.
Game Of Groans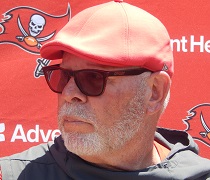 On Tuesday, Arians was asked about his new defensive line.
"I don't know who's going to be there in August," he said. "This thing changes all the time and to say that this is our football team today … not even close."
Of the 11 defensive starters who took the field in New Orleans for the 2018 opener, only four figure to open against the 49ers in Week 1. Check out last year's starting defensive line in the Superdome: Jason Pierre-Paul is recovering from a fractured neck, Vinny Curry is back in Philadelphia, McCoy is looking for a new landing spot and Beau Allen looks like a reserve tackle behind Suh and Vita Vea.
Kwon Alexander will be looking at the Bucs from across the field as a new member of the 49ers.
Ryan Smith is a backup corner, if he even makes the team. Chris Conte is currently out of football at the age of 30.
That leaves Lavonte David, Justin Evans, Vernon Hargreaves and Carlton Davis as likely holdover starters. Hey, something had to give.
During the past eight seasons, the only time the Bucs have ranked better than 21st in scoring defense came in 2016, when a five-game winning streak helped them finish at No. 15.
But even that year, when they were 8-5 and poised to make the postseason, the Bucs headed to Dallas and New Orleans and allowed a combined 57 points, 49 first downs and 866 yards.
Not nearly good enough. Buc supporters have been through this game of groans long enough.
Run Stuffer?
It's been quite a contrast to the franchise's glory days, when Tampa Bay reeled off 10 consecutive years of Top 10 scoring defense (1996-2005) and made the playoffs six times in that span.
The names have changed. So have the coaching staff and the schemes. What about the results?
"Like I said, some of the pieces are there," Arians says. "Vita Vea I think is going to be a premier nose guard. I think he's going to be an outstanding player and we've got speed at linebacker. We just got a young secondary that has to grow up."
Suh's a different player than McCoy, but he's not a miracle worker. He played next to Aaron Donald last season and the Rams still couldn't stop the run.
Still, he brings a nasty attitude and some playoff experience to a defense that needs both attributes. As expected, change has been constant at One Buc Place, particularly on the defensive side.
More reinforcements will undoubtedly be on their way before John Lynch and the roster he built in San Francisco venture cross-country for a Week 1 encounter.
The new-look Bucs will be waiting. Bring your scorecard.