"Big, Big Emotional Leader On Our Team"
May 17th, 2019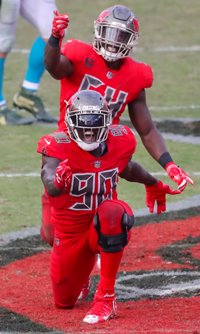 How should one measure the loss of Jason Pierre-Paul?
Today a Buccaneer weighed in as he gave back today at One Buc Palace, helping the Tampa Bay Buccaneers Foundation & Glazer Family Foundation as they welcomed roughly 600 kids for a "Field Day."
JoeBucsFan.com intern Zach Seifter asked safety Jordan Whitehead about how the locker room is feeling about the loss of JPP, who broke his neck during a car wreck early this month.
Whitehead went to the off-the-field impact.
"JPP like [was] the big, big emotional leader on our team," Whitehead said. "That was a big part of that takeaway. That just means somebody has to step in his role physically and emotionally. But I think we got enough guys in the locker room, great guys on the team, we're going to find that role and somebody's going to step up."
Interesting to hear Whitehead reference JPPs leadership and he sort of called JPP the top dog in that department. Joe has heard mixed reviews of JPP in that role, but perhaps he had the attention of the younger guys for his warrior ways.
Regardless, Joe's not too concerned about lost defensive leadership. Why? Because Joe watched the Bucs defense last year.