Arians Won't Talk GMC, Suh
May 21st, 2019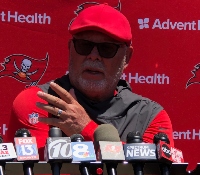 It is less than 24 hours since the Bucs announced they parted ways with stud defensive tackle Gerald McCoy. But in Bruce Arians' mind, it is history.
Arians spoke after underwear football practice today and likely well aware he would get questions about GMC. Arians mentioned in his opening remarks that reporters should consult with the statement released by the Bucs yesterday.
"There is no need to ask me a question about [GMC]," Arians said. "Talk to me about the players that are here. I am really happy with the ones that are here."
Arians was asked about free agent defensive tackle Ndamukong Suh, who was drafted one spot prior to the Bucs drafting GMC in 2010. There was speculation floated on social media last night that the Bucs were interested in Suh.
Arians laughed and said, "I can't talk about him, he's not on my team."
When Arians was reminded that Suh is a free agent and teams are free to speak openly about free agents per NFL rules, Arians took a drink of water and deadpanned, "He's a helluva player."