Ali Marpet: Nobody Has Been Spared
May 26th, 2019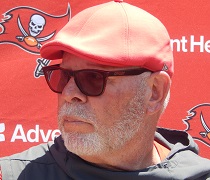 The fire and wrath of Bucco Bruce Arians has been pulsating through One Buc Palace.
When Arians' giant stable of assistant coaches met with local media four weeks ago, one big and obvious theme was that expectations are being raised in a big way.
But it's another thing to hear it from a level-headed and experienced Buccaneer.
Ali Marpet visited the WDAE-AM 620 airwaves last week and was peppered with questions by ex-Bucs guard Ian Beckles (1990-1996). Beckles claimed insider knowledge and asked Marpet to confirm it.
Ian Beckles: I've heard that Bruce Arians actually called out the offensive line and their attitude. Is that true? He said you guys the pace is not right. Has he called you guys out this year?
Ali Marpet: I think he's called everybody out at this point. (laughs) So yeah, I think that his expectations of everybody are very, very high.
Marpet went on to say there's a load of respect for Arians because of his track record, and Marpet said the running game should improve, in part, because of the scheme and "the unique game-planning ability," but it will still come back to the gameday performance of the O-line.
Joe will stay positive and hope Arians will get the O-linemen playing to their abilities. If he can scare the loaf out of Donovan Smith and play to the strengths of Ryan Jensen, that should represent a solid uptick in performance.