5 Things To Know About Rookie Safety Mike Edwards
May 3rd, 2019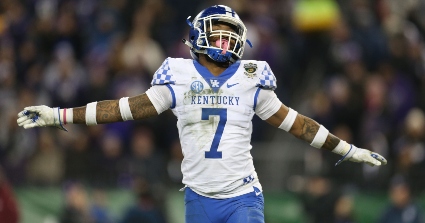 In the spirit of Kramerica Industries, JoeBucsFan.com has a college intern for a few months. It's a true rarity. In addition to soaking up wisdom from The Sage of Tampa Bay sports, Zachary Seifter has a pile of Bucs knowledge himself and you'll see some of his work here occasionally.  
By Zachary Seifter
JoeBucsFan.com intern
While many see rookie linebacker Devin White to be the new face of the defense, there is another player the Bucs are looking at to turn around their historically bad defense from a year ago.
His name is Mike Edwards.
The late third-round pick out of Kentucky was the last of three defensive backs drafted by the Bucs last week.
Here's some interesting stuff about him:
The Bucs think he can be an instant starter
It seems Edwards will be given every shot to be a starter immediately in Todd Bowles' defense, in what appears to be a wide-open safety competition. Edwards might have an edge. He possesses every characteristic they look for, safety coach Nick Rapone said this week.
"The safeties in Todd's defense basically run the defense," Rapone said. "And they have to call out the fronts, but they have to play multiple positions. And we thought he had the ability to do everything that we wanted. First of all, he's physical. Second of all, he can blitz. Third of all, he can cover. Fourth of all, to the best of our knowledge, he is cerebral, and the safety in this scheme has to be cerebral. So that's what we saw, all those qualities in him."
Edwards grew up a Broncos fan despite being from Cincinnati
The safety from Winton Woods High School in Cincy chose to wear No. 7 in college because of his Broncos fandom. The great John Elway inspired the choice, along with the "Honey Badger," Tyrann Mathieu, who wore No. 7 at LSU. Ironically, Edwards' nickname is "The Badger."
He has a shoe addiction
Edwards will shop for shoes on any day. He claims to own more than 100 pairs, including over 40 pairs of Air Jordan's. "Feels like it's my first pair of shoes," he said in a video with Cincinnati's ABC affiliate, WCPO- TV. "Every time."
He was one heck of a baseball player
Even though Edwards was a stud as a high school safety, he may have been a bigger stud on the diamond. He told Catsillustrated.com he was "a really good baseball player, probably better than football." His baseball career drifted away in high school due to a shoulder injury, as well as his high school team not being very good. He'll find a baseball friend in Bucs safety Justin Evans, who had professional baseball aspirations as a pitcher.
He has experience in culture change
Despite offers from more successful D-1 college programs such as Louisville or West Virginia, Edwards chose Kentucky, a football team with a 2-10 record in 2013. His high school coach, Andre Parker, said Edwards desired to be part of a culture change at Kentucky. He wanted to lay the foundation for a more successful future there. The Wildcats finished 10-3 with a victory in the Citrus Bowl in his final season.
Here's to hoping he will be a part of another culture change with the Bucs.