"You Don't Worry About What People Say Or Write"
April 6th, 2019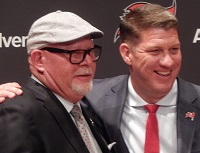 Big school, small school, winning program, whatever, it's pretty darn meaningless when it comes to the NFL Draft says one historic scouting guru.
This week on SiriusXM NFL Radio, iconic Hall of Fame general manager Bill Polian talked about how GMs must consider any hype on a player to be completely meaningless and that includes nearly ignoring where the player played — unless, per one Polian example, it comes to defensive backs coached by Nick Saban at Alabama.
"You don't worry about what people say or write. In fact, if you do, you're probably headed down the wrong path," Polian said. "You look at the tape and you evaluate the player 1-on-1."
Joe thinks it's interesting that Polian implied that actually happens — GM get swayed by the hype train.
He said the fall of Dwight Freeney in the 2002 draft (to the Colts at No. 11 overall) was a lot about teams getting caught up in the hype about Freeney getting shut out in a game against the Miami Hurricanes.
Polian said he remembered simply turning on the film and seeing Miami double team a hungry Freeney on 95 percent of the snaps. For Polian, it was as if the teams picking ahead of him didn't even watch that film.
No matter the production of an offensive lineman in college, Polian said he and his staff immediately wrote off any guys who were "waist-benders" from their draft boards. No exceptions. If you bend at the waist, Polian said, you can't make a second reaction during a play.
Polian also explained that he's big on match-ups, scrutinizing full games of a player against the best available competition, much more so than against weaker 1-on-1 match-ups.
Joe often wonders whether general managers spend too much time on the mental side of players, trying to figure out where their heart and mind is and how they handled coaching, subsequently neglecting deeper work that can be done of the football side. GM Jason Licht and former Bucs rock star general manager Mark Dominik have been so hyper-focused on the mental makeup of draftees. Where has it gotten them?
Polian said he believes college coaches, from his experience, are universally honest about their own players and so much can be gleaned from them because they can be trusted.
As Bruce Arians has said, at No. 5 overall you pick the guy you are most certain will be a Hall of Famer and then hope like heck that you never draft that high again. Joe hopes the Bucs follow that line of thinking, with a tiny bit more emphasis on the neck down than usual.