"Where Are The Personalities?"
April 14th, 2019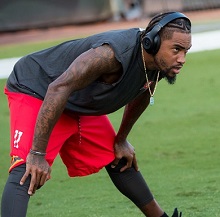 Joe spent time with a handful of "casual" Bucs fans last night, guys who watch about 90 percent of Bucs games and pay close attention to the team during the season and during key offseason times, but definitely not year-round.
You know the type; guys who have no idea who Alex Cappa is or which Buccaneers skip spring practices.
After one guy asked Joe, "Where are the personalities on the Bucs?" The rest chimed in to agree. They don't see a "personality" that excites them, or a guy they feel they absolutely have to watch play.
The consensus was that America's Quarterback, Jameis Winston, used to be that guy. But the group was down on Jameis, not to the point where they want him off the team, but they've lost confidence and want to see him win and be consistent.
Interestingly, they felt Doug Martin was a guy they loved to watch, and there were Kwon Alexander fans in the group. Surprisingly, Jason Pierre-Paul didn't move the needle with these guys. O.J. Howard seemed to be the guy they had most hope for in 2019, when it comes to being "that guy."
Mike Evans? This group likes him, of course, but they were more fired up about DeSean Jackson and Ryan Fitzpatrick last year before he fell off the map.
So where are the personalities on the Bucs to fire up casual fans and be the face of the team? At this point, Joe supposes it's the head coach until the team starts winning or a player captures the imagination of the NFL.