What's Really The Plan?
April 18th, 2019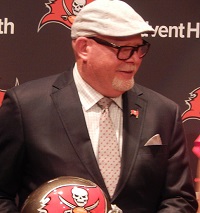 Bruce Arians likes to say he's in win-now mode and he's reloading and not rebuilding.
But what's he really thinking?
It might be the greatest unknown for the Bucs entering the NFL Draft.
Does Arians really expect to be crafting a team to win a Super Bowl this season? Barring a sports miracle Joe would be ecstatic to see, the Bucs just don't have the horses to ride to the NFC title game this season.
So shouldn't everything sort of be about 2020? That's a big reason Joe is ok with the Bucs waving goodbye to Gerald McCoy.
If Arians is going all-in on this season with limited regard for the future, then Joe would expect the Bucs to draft a lot more offensive players than most fans expect.
The only thing Arians is probably certain of right now is that he can outscore his share of opponents this season, and that premise instantly gets far more powerful if he drafts, say, a guard in Round 2 and a running back in Round 3 next week.
Of course, that assumes the rookies can play, which is a big assumption in Tampa.
Heck, maybe Arians and general manager Jason Licht even add to the scoring push and draft a returner in Round 4 who doubles as a cornerback prospect.
On the flip side, if Arians is more patient than he lets on when it comes to his build-the-Bucs plan, then he likely goes heavy on defense next week with the understanding that it might take a year for the rookies to find their way, as well as to weed out the dead weight currently on the defensive roster.
Joe is fine with either approach. But is Arians?
Arians may very well be planning to put his foot on the gas with the offense — No risk it. No biscuit. — in order to win in a hurry. Guard and running back are two of the true plug-and-play positions in the NFL, especially when they're surrounded by a pile of established talent.