Upgrade? Yes. Now What?
April 26th, 2019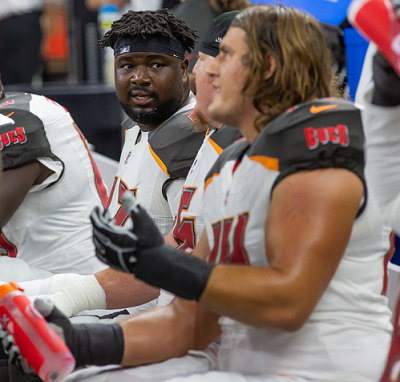 Yes, this morning you have a sore hand from all that high-fiving over the Buccaneers' upgrading at inside linebacker last night.
Don't squeeze the coffee cup too tightly. Ice the hand and think about how Bucco Bruce Arians professed he wanted to reload this roster, not rebuild it.
Joe's not sure which one occurred last night, but Joe is certain Round 2 will shape the story. The Bucs pick No. 7 overall when the NFL Draft clock re-starts at 7 p.m.
It's a safe bet Joe will need a fresh roll of toilet paper and a mop if the Bucs don't draft a player in the trenches with their next selection — offense or defense.
The only other thing that would keep Joe continent would be a running back; that's how shaky the Bucs are at that position.
Texas A&M center/guard Erik McCoy would be very high on Joe's list for a Round 2 selection. Is Ryan Jensen going to be here beyond 2019? Doubtful. And McCoy seems like one of those no-risk types: checking all the boxes from captain, to raw strength, durability, versatility, intelligence, production and leadership.
Joe's already written about another top center/guard option out of Mississippi State, Elgton Jenkins. He's in the same mold.
Would the Bucs really skip the trenches in the first two rounds of this draft?
Yeah, Bruce Arians said you get fired if you draft for need. But you also get fired for being softer than your opponents on most weeks.