The Bucs And Elgton Jenkins
April 25th, 2019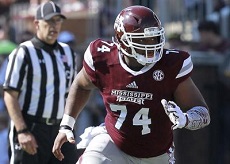 Yeah, tonight's the big first round of the NFL Draft, but Joe's not expecting fireworks.
Barring a special trade offer, the Bucs will sit tight and, hopefully, do the smart thing and draft a defensive lineman.
Joe's already more focused on Round 2.
If the Bucs have a two-year plan on the whiteboards of One Buc Palace, Joe assumes center Ryan Jensen is not part of it. His $10 million salary is guaranteed this year but not in 2020.
When you look at the O-line pecking order, Donovan Smith and Ali Marpet rank higher at One Buc Palace. They're younger and have more Tampa years of service than Jensen. Smith also has guaranteed money for 2020. The Bucs' salary cap situation makes it highly likely they won't be able to afford all three next year.
So this is why Joe could see the Bucs falling in love with Mississippi State center/guard Elgton Jenkins. Scouts love his versatility at 6-4, 310 pounds. He's also lauded for his technique and success against top opponents. Joe can't find anyone who thinks Jenkins isn't a plug-and-play talent at center or guard, which is a current Bucs need.
Joe sees Jenkins as a guy the Bucs might trade up for within the second round. The Bucs sit with the No. 39 overall pick, the No. 7 choice on Day 2.
Joe would applaud such a move. You simply cannot go wrong drafting a quality O-line starter in Round 2. If Jenkins is that guy, then Joe hopes the Bucs get him. At most, moving up within the round would cost them their fourth-round pick and a swap of Round 2 picks.