Unimpressed With Bucs Draft
April 30th, 2019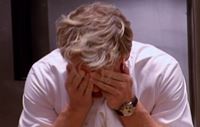 Bucs fans, if you are still trying to overcome your bout of depression brought on by the Bucs draft over the weekend, you are not alone in your anguish.
Members of the national media share your bewilderment.
First, Joe will point out how one national television talking head thinks of the Bucs. Joe's good friend Jason McIntyre, founder of TheBigLead.com and a current FS1 weekday personality, had the list of his projected draft order for the 2019 season. Though he doesn't give his prediction for the Bucs record, you can easily figure out what he thinks of their draft.
Then there is Dane Brugler of The Athletic. He's not nearly as harsh as McIntyre, but he only sees modest improvement in the Bucs.
Helmet hair Mel Kiper of BSPN gave the Bucs a C+, but that was tied for the lowest grade he assigned across the NFL.
Former Bucs QB and current NBC Sports analyst Chris Simms was flabbergasted by Tampa Bay's second-round pick.
So Bucs fans, you are not alone. Across the country, others were unmoved by the Bucs moves this past weekend.