They Stocked The Trenches; We Didn't
April 27th, 2019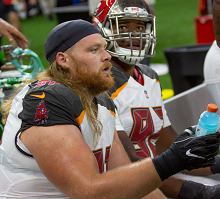 Through the first two rounds of the 2019 NFL Draft, the Buccaneers' NFC South rivals drafted five linemen.
Yep, that's five premium picks in the division used on the trenches, while the Bucs used none on linemen in those rounds, in addition to drafting two defensive backs in Round 3.
The contrast is stark.
Now Joe understands what the Bucs did. Joe just doesn't agree with it. On the upside, at least it was refreshing to see Bucco Bruce Arians assess his defensive backs stable and not care a hoot about past picks and investiture at the position. He saw glaring weakness in the talent pool and addressed it. That's why these guys watch practice film, not just game film, on guys like Ryan Smith and Carlton Davis and M.J. Stewart, among others.
But this ignoring of the trenches over the past two days had Joe taking a long walk last night. It's just hard to stomach for many reasons.
Are there miracles around the corner for the Bucs defensive and offensive lines? Was ousted D-line coach Brentson Buckner really part of the problem? Joe sure doesn't think so.
Is new O-line coach Joe Gilbert, the guy responsible for a big chunk of the former mess in Indianapolis, the man to get the Bucs O-line playing nasty and with better technique? And why exactly was new O-line overlord Harold Goodwin out of football last year?
You know the old saying about winning football. In frustration, Joe put a new spin on it last night via the Tweet below.
You know the old saying, "Games are won in the secondary."

— JoeBucsFan (@JoeBucsFan) April 27, 2019