"Not Really An Indictment"
April 27th, 2019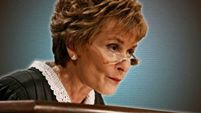 Don't read between the lines, says Bucs AC/DC-loving general manager Jason Licht.
First, a step back a year in time.
In the first four rounds of the 2018 NFL draft, the Bucs selected two cornerbacks and a safety. The secondary proceeded to get roasted worse than a stuffed hog over an open fire at an LSU tailgate party. It was nothing short of a football atrocity.
Only thing missing was that one of the defensive backs last year wasn't prone on the turf of the Den of Depression with an apple in his mouth.
One of the corners was so awful Licht announced in February that the corner, M.J. Stewart, is being moved to safety in what seems to be an effort to save his career.
Fast-forward to Rounds 1, 2 and 3 of this week's draft, Licht selected two corners and a safety. But don't fool yourself, Licht said Friday night. This is not throwing shade on the guys drafted last year.
Licht said Friday's transactions were "not an indictment" on the current gaggle of defensive backs, though he said he was not happy with how the secondary played last year.
What else could it be? You don't see Licht running out and drafting wide receivers or a quarterback, right? Other areas of the team that are, at best, thin if not barren could have been addressed if last year's picks of corners and a safety turned out swell.
There are no special running backs currently on the roster. Offensive line is thin. The defensive line is thin and one year away from beginning to fully unravel, not that it was anything remotely close to a dominant force to begin with.
This has to be the most puzzling start to a Bucs draft that Joe can remember in a long, long time.
The kicker to all of this is the safety the Bucs drafted in the third round, Mike Edwards, was compared favorably (?) to — guess who? — M.J. Stewart. It's as if someone at One Buc Palace has a perverse sense of humor and is toying with Bucs fans.
Please don't tell Joe the Bucs this afternoon are going to draft a guard comparable to Alex Cappa.