Ryan Jensen Day 1 Impression: Toughness From The Top
April 3rd, 2019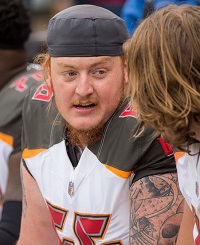 This should have a lot of Buccaneers fans driving to work with smiles on their faces.
The optimist in every Bucs fan hopes the arrival of Bucco Bruce Arians will mean much higher standards for practice, effort and performance at One Buc Palace.
Nonsense and loafing was too often tolerated under the Dirk Koetter regime, and not just by the head coach and his staff, but by the players working around the loafers.
The Bucs reported back to work Monday and after the morning session center Ryan Jensen treated fans to some candid talk on SiriusXM NFL Radio. He was asked to say what's different from the Koetter regime — even after just one morning and a team meeting with Arians.
"It's definitely going to be a little bit more of a, I don't want to say 'tough love,' but definitely it's what I've always heard of Bruce is he's kind of a hard-nosed coach," Jensen said. "He coaches you but he loves you at the same time. And I think that's a good mixture of player-coach relationship right there."
Hallelujah!
Jensen added that there's even more excitement in the locker room than for the start of last year, which he said is very positive.
Jensen said he's heard nothing but good things from players who played for Arians and Arians' opening message Monday "backed up everything I heard."
Discipline was a theme for Jensen during the interview, including the minutiae of the game, saying strict attention to that will be the difference for the Bucs if they turn things around this season. Veterans keeping young players on point is a giant part of that, he said.