No Excuses From Jason Licht And Bucco Bruce Arians
April 25th, 2019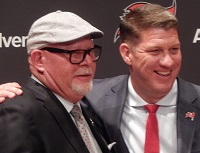 No. Joe doesn't like the Devin White pick at No. 5 overall.
Sure, he might be an excellent player, but he's going to have to damn near be a superhero to be worth that pick on a team in need of defensive linemen.
Joe never wants to hear this Bucs regime complain about a lacking pass rush. And don't tell Joe that White is going to be blitzing over and over.
Why do pass rushers earn so much more than linebackers around the NFL? Why is their trade value better? Because they're worth more. It's just that simple.
The Bucs passed on elite — not average, elite  — pass rush talent in favor of White. It's painful for Joe right now.
Joe will root for White in a big way, but again, he'll have to be nearly an instant Pro Bowler for this pick to be worth it. And he certainly has to be better than Kwon Alexander.
The pick fits the mold of Bucco Bruce Arians in some ways. He wants leaders and rah-rah guys at every position. And he believes so deeply in Todd Bowles' ability to mold an extraordinary defense and coach guys up in a hurry, things Bowles didn't do with the Jets.
Frustrated. That's the word for Joe, frustrated.
You know what the Bucs are going to need in the draft next year? A pass rusher, one they could have landed tonight.