Nelson A Product Of Belicheat
April 27th, 2019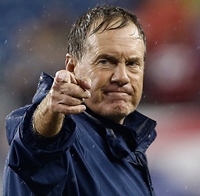 Iowa may not compete for many national titles or college football playoff berths. But when it comes to producing NFL talent, few schools outside the southeast pump out NFL players the way Iowa does.
The main reason? Iowa coach Kirk Ferentz.
And he is part of the Belicheat Tree.
Ferentz was Belicheat's offensive line coach in Cleveland and it is clear Ferentz, then a young man, was deeply influenced by Belicheat. Joe has heard pro player personnel folks rave about the fundamentals of Iowa players. Joe once hear Bill Polian say scouting Iowa players may have been his easiest task as an NFL suit.
And new Bucs defensive end Anthony Nelson gave credit to his college coach for being drafted by the Bucs.
"Coach Ferentz and the whole staff do such a great job getting guys ready to play and making them good college football players," Nelson said in a teleconference call with the Tampa Bay pen and mic club this afternoon. "The way he pays attention to detail and the amount of work he puts in really prepares you to enter the NFL. His approach and the way he goes about it every day like a professional and he passes it down to his staff and then to us."
That is one thing going for Nelson, that the Bucs shouldn't be too worried about teaching him fundamentals. He should already have that aspect of his game down. (Hey, eight years ago the Bucs drafted a Hawkeyes DE who was ready to contribute immediately, Adrian Clayborn.)
And given how thin the Bucs' defensive line is, Nelson has a real shot of making the club.