Mike Evans Talks Koetter-Jameis Relationship And Coach-QB Dynamic
April 1st, 2019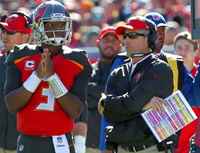 Thought-provoking nuggets from Pro Bowl receiver Mike Evans today as most players reported back to work at One Buc Palace.
Evans was asked about how Bucco Bruce Arians going public early with unwavering support and love for America's Quarterback, Jameis Winston, would affect Jameis.
Evans waved off the implied notion that his good friend Jameis had any issues with his old head coach and quarterback guru.
"I guess it should help him; He was good with Dirk [Koetter], though. Dirk coached him a little different because he was the quarterback," Evans said. "And that's the most important position on the team, in my opinion, and I think in everybody else's as well. You're a little harder on the quarterbacks. But we'll see. I haven't seen how Bruce and Jameis interact or nothing. But I'm sure it'll be fine. I'm looking forward to a great year from Jameis."
Arians has done everything he can to tell the world that Jameis is his guy and has his complete confidence. That's by design, but Arians also made it seem like Jameis is fragile and needs that kind of public love, including making sure there is no QB on the roster that might have fans secretly yearning for him to become the starter.
Evans, though, is sorting of saying Jameis was just fine with Koetter riding his ass and that's how it should be in the NFL. Frankly, Joe is confident Jameis would say the same thing. That's what he knew in college, and Jameis has said many times he likes to be coached hard.
Jameis will get that hard coaching from Arians. Whether offensive coordinator/playcaller Byron Leftwich has that style is very much unclear.