Koetter Should Share Blame
April 19th, 2019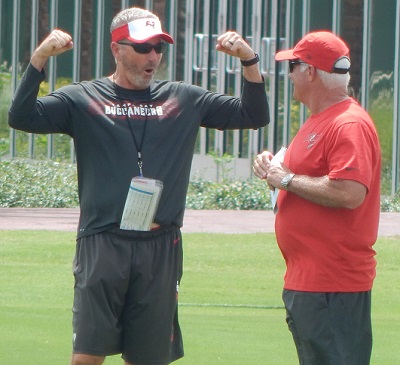 Yesterday Joe reviewed defensive players drafted in the past three drafts and how quickly they were moved to another position, or changed positions immediately after former Bucs coach Dirk Koetter was dismissed.
While a lot of folks take the knee-jerk reaction to blame Bucs AC/DC-loving general manager Jason Licht, Joe is one to point a finger at Koetter.
Look, Joe likes Koetter and it is hard to call him a bad football coach the way he got results from his offense. But as an NFL head coach, Koetter wasn't a good fit.
Koetter's biggest issue, aside from not developing a running game since he was forced to by inept coach Lovie Smith, was his blind allegiance to his friend and former Bucs defensive coordinator Mike Smith.
Yeah, you could argue Licht drafted players that didn't fit Smith's defense. Well, where was Koetter to tell Smith to change his defense? Or how about getting a defensive coordinator in here that knew how to use these players?
Koetter irresponsibly waved off any issues with the defense using the crutch that he would just foul things up if he got involved. It reached a point where expecting Koetter do something about the defense was like expecting a teenager to make his bed or wash the car or clean the gutters without any hounding.
Sorry Dirk, you are as responsible for that defense as Smith was. If Smith wasn't using players correctly, Koetter should have found someone else to run the defense. (Yeah, the Bucs did change defensive coordinators when it was way too late, but it isn't clear whose call that was.)
In the end, it was comical how Koetter covered for Smith and his worst-defense-ever-witnessed-by-man. Koetter would react in anger when anyone hinted Smith kept his job because of their friendship, but it was the only logical reason Smith even had a job; he shouldn't have been brought back for a third year.
It's easy to throw darts at Licht for picking players he thought had a chance to succeed (not suggesting he is blameless). But where was Koetter to ensure that his defensive assistants were developing and using these guys properly?
Koetter was just as culpable.