"I'm Not Really Big On Preseason Talk"
April 9th, 2019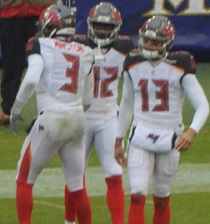 Bucs third-year wide receiver Chris Godwin addressed Joe and other media today at One Buc Palace and sort of seemed like a guy lukewarm about playing slot receiver.
He's been projected to play inside quite a bit with speedster newcomer Brashad Perriman getting a shot to dazzle on the outside as a rotational player.
Twice Godwin was asked about playing in the slot and he never said anything like "I can't wait to take on the challenge." Instead, Godwin said while answering one of those questions, "I'm not really big on preseason talk."
Later he talked about working on contested catches in the offseason, "bang-bang" plays, he called them. "If" he plays in the slot, that will be beneficial.
Godwin sure sounded like a guy who wants to be a true No. 2 receiver on the outside opposite Mike Evans. And who could blame him, as Evans draws a healthy share of double teams and Godwin thrived outside last year.
Godwin is a team player; Joe isn't going there at all. It was just worth noting that Godwin wasn't doing April jumping jacks about becoming a slot receiver.