Getting Outdrafted
April 24th, 2019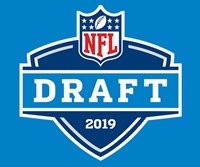 Want to know one reason why the Bucs reside in Buccaneers Cove (last place in the NFC South)? Well, one could point to several reasons.
A nasty habit of hiring incompetent coaches is a good (bad?) start. Moronic player personnel decisions is another (highlighted by tossing Michael Bennett and Darrelle Revis out onto Martin Luther King Blvd. and not even getting a warm beer in return is key).
Per jet-flyin', kiss–stealin', data-analyzin', Bucs-film-studyin', limousine-ridin' Thomas Bassinger of the Tampa Bay Times, it is no more complex than the Bucs are being outdrafted by their NFC South counterparts.
Bassinger and the Times decided to do serious research on the draft the past few years. Simply put, the Dixie Chicks, the Stinking Panthers and the Saints are outdrafting the Bucs and Bassinger types that the gap is widening.
Because the Bucs, by virtue of their poor regular season finishes, often pick earlier in the draft, you would think that they would land more high-performing players. The numbers, however, show that hasn't been the case. …

Of more immediate concern to the Bucs is that the other teams in their division have been outperforming them in the draft. The Panthers beat expectations by 27 percent, the Falcons by 18 percent and the Saints by 8 percent. In fact, Atlanta and New Orleans produced two of the five best classes since 2014. In 2016, the Falcons landed safety Keanu Neal, linebacker Deion Jones and tight end Austin Hooper with their first three picks. In 2017, the Saints landed cornerback Marshon Lattimore, offensive tackle Ryan Ramczyk, safety Marcus Williams and running back Alvin Kamara with their first four picks. It's no wonder Tampa Bay has finished last in the NFC South in four of the past five seasons.
As Joe pointed out yesterday, second-round draft picks have killed this organization. It's not a Jason Licht thing. It goes all the way back to when Chucky first came here. And it hasn't improved.
That is why Joe has no issue whatsoever if the Bucs think they have that franchise-changing defensive lineman on the board to start the draft tomorrow night (tomorrow night!) and use their second-round pick as bait to move up and get their guy.
And then hope by some divine intervention that guy isn't an inside linebacker.