Gerald McCoy Continues To Grind
April 6th, 2019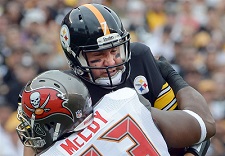 No matter where you stand on Gerald McCoy, it's safe to say the Buccaneers have botched the public handling of the six-time Pro Bowler, and the private handling, too.
Joe is willing to point a finger of blame at Bucco Bruce Arians, Jason Licht and the team media relations people who are supposed to help the two honchos figure out what to say — and what not to say.
Consider that Licht and Arians were happy to throw around all kinds of BS when it came to their desire to keep malcontent DeSean Jackson, and to a lesser extent Adam Humphries. Hell, Arians even said there was no doubt Ryan Fitzpatrick would be an asset to the Bucs.
But McCoy? Licht and Arians were quick to dial back their interest in his return.
Why the disparity? Did the Bucs really think throwing a little public shade at McCoy would lead him to restructure his contract? C'mon. Plus, that certainly hurt his trade value and reports, including from NFL Network, say they're trying to deal him.
Joe has been told by two sources that McCoy was not happy with the public stances of Arians and Licht. And Joe was told that McCoy's representatives were all over Licht in recent weeks to make a decision or move McCoy.
Meanwhile, McCoy didn't report on opening day for players on Monday, a day he usually embraced. But he has been in town training with former Bucs strength and conditioning coach Joe Vaughn.
Vaughn has been posting video of McCoy, including a little work this morning.
On Wednesday, 42.1 percent of fans voting here in a 24-hour poll said McCoy belongs in the Buccaneers Ring of Honor.
Think about that high number. (Joe wouldn't put McCoy there, but that's not the point.)
Meanwhile, the Bucs made the conscious decision to bungle the handling of McCoy, a guy revered by legions of Bucs faithful. The Buccaneers' customer service staff gets incredibly high marks for taking care of season ticket holders, and this is the thanks they get; the guys on top fostering discord with a Buccaneer highly-regarded by many.
Maybe there's a happy ending here. But that's about as likely as DeSean Jackson's third Buccaneers season.