Final Internal Factors For The Bucs' Draft
April 19th, 2019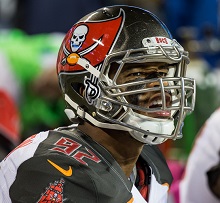 Joe banged on doors and has learned that yes, Vita Vea looking like he's hit a new and impressive level of fitness is a real thing.
It's not just a mirage seen in pictures and video shared by the team.
So a professional defensive tackle become more of a professional in his first offseason and reports looking good and nastier. That's hardly a surprise, but, it could be a factor in the NFL Draft.
It's easy to think that won't matter a bit, but the reality is Bucco Bruce Arians and general manager Jason Licht continue to deeply evaluate their current roster to prepare for this draft.
Think about Licht volunteering this week (without being asked) how second-year running back Ronald Jones has highly impressed players, coaches and personnel with his work rate and confidence since reporting on April 1. It scares Joe to think that could affect the Buccaneers' draft, but it certainly could.
It also scares Joe to remember Arians referencing at the NFL Owners Meetings that Will Gholston could put add weight and be a factor in the interior defensive line.
The point is that draft plans are sometimes tweaked based on what coaches see in April, especially on a brand new staff.
Arians and the Bucs are practicing next week in OTA sessions open to media, the first of the season. That was Arians' call. He could have waited on that until after the draft as some coaches do, which is a tactic to get rookies more work with the veterans.
Instead, Arians wants a complete look at what he's got before the big calls on Thursday, Friday and Saturday.