Devin White & "The Green Dogs"
April 19th, 2019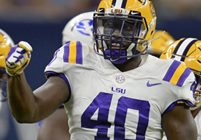 Now here is a truly great mock draft, 90-plus minutes of intensity featuring an ex-Buccaneer who is one of the great analysts in the game.
Joe will blow the surprise for you, which runs from the 15- to 19-minute mark in the video below.
Bring on linebacker Devin White to the Buccaneers with the No. 5 overall pick.
Chris Simms teamed up with the Rotoworld team for this and Simms is all-in on White after, in the mock draft, the Raiders take DT Quinnen Williams at No. 4 overall, a guy Simms says is the perfect prospect.
White can rush the passer, Simms explains, noting White is the ideal guy for "green dog" blitzes, meaning he'll be using his lightning speed to come after the QB when the QB thinks White will be covering the running back out of the backfield. Simms has no doubt White can wreak havoc doing that throughout a season.
"He is truly an explosive, special middle linebacker," Simms said.
Having a true sideline-to-sideline linebacker has become more crucial, Simms continued, noting the growth of the NFL wide receiver screen game and tight ends running more seam routes and operating as slot receivers.
Joe liked one of the lines dropped by a Rotoworld dude. "If your linebackers are slow, your defense is slow." He added that White and Lavonte David could form the fastest LB tandem in the NFL.