Devin White Fired Up
April 25th, 2019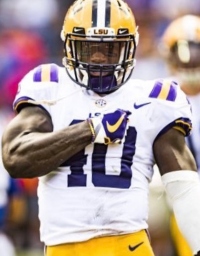 Man, some believe new Bucs ILB Devin White's best trait is his leadership and it is easy to understand.
In a conference call tonight with the local pen and mic club, White's enthusiasm just jumped off the speaker.
A few highlights:
* White was talking a mile a minute. He could not contain his excitement. It reminded Joe of when the Bucs drafted America's Quarterback, Pro Bowler Jameis Winston. If this rubs off on his teammates, that would be fantastic but Joe sure hopes production comes with it.
* White said that in his meeting with team shot-callers, there was only one person who wooed him more than Bucs AC/DC-loving general manager Jason Licht. And that was Chucky. Interestingly, Chucky passed on White for defensive end Clelin Ferrell.
* White was asked why so many LSU linebackers are in the NFL. He said that LSU coaches make sure their players are coached up right.
* White said he spoke to former Bucs linebacker Kwon Alexander, basically the guy he is replacing, several times during the draft process. White said LSU players, especially linebackers, remain tight, sort of like a fraternity.
* White sounded as if he wanted to hit the turf of the Den of Depression tonight and start drilling people, the hell with waiting until September.