Chris Simms Calls Jameis Winston A Knucklehead With Upside, Says Bet On Bucs Winning More Than 6
April 3rd, 2019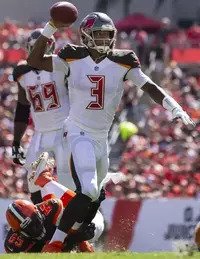 Former Bucs QB Chris Simms is a very smart and fun guy.
Joe enjoyed chatting with Simms at the NFL Owners Meetings in Phoenix last week about how far too many NFL media types are out of touch with fans and have forgotten that it's all supposed to be fun.
Simms gets it, and his new gig with NBC Sports is perfectly to suited to his analyst style.
(Fun fact: at the owners meetings last year, Simms spent time with Chucky who was eager for Simms help him simplify his giant playbook for the modern player. Who would have imagined that happening 14 years ago!)
Anyway, Simms was talking this week about the Bucs, which remain very close to his heart. Simms has long been a fan of America's Quarterback, Jameis Winston. He and his analyst dad, Super Bowl-winning QB Phil Simms, were very pro-Jameis back in 2015 and early in Jameis' career.
Now, however, Simms is at the end of the line with Jameis but remains optimistic.
"You've got a quarterback that's certainly been a knucklehead but has upside that I think we've all seen and gone, 'Wow, there's moments that we see that are special with this kid,'" Simms said.

"This has to be it [Jameis' last chance]. If he can't make it happen as far as Bruce Arians with Jameis Winston right here; and Bruce has made every quarterback better, then yes, Jameis is in deep crap."
Simms was adamant that the Bucs are at least a six-win team for 2019, and said he definitely would wager on that Bucs over-under-six-wins total put out recently by the Vegas wiseguys. He thinks Tampa Bay is one of the best bets on the board, though Simms didn't call the Bucs headed toward a winning season. The conversation came up on Chris Simms Unbuttoned.
The constant creativity of Arians, Simms said, combined with all the Bucs' weapons and an offensive line he classified as "not bad" means the Bucs have a high ceiling. He also said "Peyton Barber is better than maybe the public or the national media realizes."