Brotherhood Lessons From The New Guy
April 3rd, 2019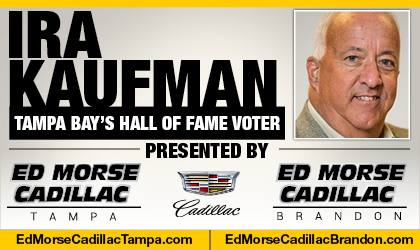 BY IRA KAUFMAN
Denver defensive players knew where they were going on Tuesday nights.
They were going to Von Miller's crib.
By the time the laughs died down and the empty beer cans and pizza boxes were tossed in the trash, another element had been added to a delicate chemistry set.
New Buc linebacker Shaq Barrett didn't hesitate this week when asked what made the Broncos defense so successful back in the day.
"I think it was pretty much all off-field honestly," said Barrett, who plans to come off the left edge with some fury in Todd Bowles' 3-4 set. "We hung out Tuesdays and Thursdays every week in the season, Von always had people coming out the house, hanging out. We were really like brothers. We all hung out. It was a real brotherhood on the team."
Tampa Bay's defense could use a little more brotherhood. Who are we kidding? Make it a lot more brotherhood.
A community that appreciates stellar defense longs for the good, old days when big-time players made big-time plays and shook Raymond James Stadium to the rafters.
For 13 seasons, beginning in 1996, the Bucs featured a Top 10 scoring defense 12 times. They were Top 10 in total defense 11 times in that glorious span, led at various stages by Derrick Brooks, Warren Sapp, Simeon Rice, John Lynch and Ronde Barber.
Brooks was the glue throughout those 13 seasons, never missing a single start.
In Denver, it was Miller's defense and everyone knew it.
"He took up the leadership role … I learned a lot from him," Barrett said.
Lost Decade, Proper Crib
That top-rated defense of the 2015 Broncos was stacked everywhere you looked — Miller, DeMarcus Ware, Aqib Talib, Chris Harris, T.J. Ward, Malik Jackson.
Barrett contributed 5 1/2 sacks and four forced fumbles in an important reserve role as Denver rolled to a championship in Peyton Manning's final game, with Miller capturing the Super Bowl MVP award.
Those Broncos played the kind of smothering defense the Bucs were once famous for.
"Everybody wanted to make the play, everybody wanted to be the guy," said Barrett. "It might be Von this game, Talib that game, Chris, T.J. We had a lot of guys stepping up making plays. It was because of the chemistry we had, on and off the field."
When pride mattered, the Bucs gang-tackled. When pride mattered, the Bucs defense told the Buc quarterback: give us 17 points and we'll do the rest.
And they did.
What about the last decade? Not so much.
Since Brooks was released in 2009, the Bucs have been better than 15th in scoring defense only once (2010). They've been better than 17th in total defense only once (2015).
So here comes Shaq Barrett, fresh off five years in Denver, looking for the same kind of defensive camaraderie that once defined the Broncos. Von Miller's not here. Neither is Talib in his prime or a proven safety as disruptive as Ward.
After last year's debacle, this Buc defense is relying on Bowles and a new staff to return the glory. You need talent, of course, but talent alone isn't enough. You need a strong sense of playing for each other, a refusal to let your teammate down.
And on Tuesday nights in season, you need a proper crib.