Byron Leftwich And The Draft
April 11th, 2019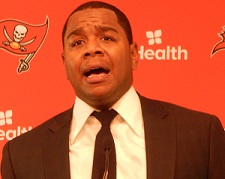 Back at the NFL Owners Meetings in Phoenix, Joe cornered various big names in the NFL to try and extract information about the Buccaneers' draft plans.
And for those who saw Mike Tomlin getting extremely loud with Joe in the courtyard of the Arizona Biltmore resort, it had nothing to do with the Tampa Bay draft board.
One AFC executive played along with Joe and opened up with insight about the Bucs draft. His thoughts revolved around playcalling and the new head coach turning it over to Byron Leftwich.
"There's no way [Arians] doesn't go after one of the better, versatile running backs in the draft," the executive told Joe. "Forget about for Jameis Winston, the last thing he wants to do is leave Byron with no running game. There might not be a bigger stress on a new playcaller than no run game and then defenses playing more pass-first."
It was an intriguing take and one Joe has been mulling over for a couple of weeks, as Joe waited to see if the Bucs made a move in the market for a back. They have not.
Joe wrote a month ago about how the Bucs are hot on Browns running back Duke Johnson and adding a true third-down back is a major priority inside the walls of One Buc Palace.
With the draft two weeks away, Joe is more convinced than ever that the Bucs will grab a running back in the first four rounds, with no hesitation for selecting one in Round 2 if the right guy is there.