"I Love Watching Him Play"
April 28th, 2019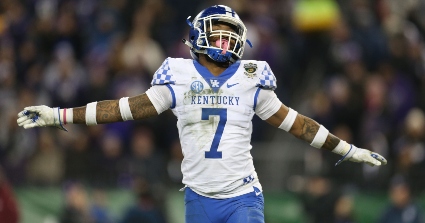 The new Buccaneer nobody seems to be talking about is the Buccaneer who warms the heart and football eyes of one respected NFL Draft guru.
Kentucky safety Mike Edwards, the Bucs' very-late-third-round pick, has the admiration of his college teammates, per general manager Jason Licht, who told media yesterday that all the Kentucky guys the Bucs talked to said they'd want to bring Edwards with them if they were drafted by the Bucs. (Hey, maybe manbeast DE Josh Allen will have a place in Tampa Bay history after all.)
But Edwards also has the respect of Daniel Jeremiah, the former scout turned top draft dog at NFL Network.
"I love watching him play. He'll play in the deep half and get his hands on a lot of balls," candid Jeremiah wrote on NFL.com.
Joe has head Jeremiah, who was down on the other Bucs third-round pick, cornerback Jamel Dean, talk about Edwards' playmaking ability in prior weeks.
Could Edwards be Arians' Tyrann Mathieu in Tampa? Edwards doesn't seem to have the same raw talent, but he was a true ballhawk in college with 10 picks.
Edwards also led all SEC defensive backs in tackles during his sophomore (100) and junior (96) seasons.