Ex-Buc/Carolina Official Talks Devin White And Kicker Fixes
April 30th, 2019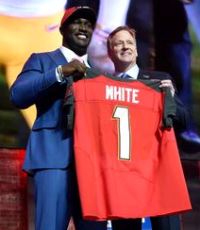 The hated Panthers walked out of the 2019 NFL Draft with what they think is an elite edge rusher, Brian Burns, and a guy who could be their franchise left tackle, Greg Little.
The trenches were a priority.
Former Bucs stud receiver Mark Carrier, who also had a 1,000-yard season for the Panthers, is now the senior adviser to the Panthers general manager.
Carrier told WDAE-AM 620 that trading up 10 spots in Round 2 for Little out of Ole Miss was the big turning point for the Panthers draft, the one that made it very special.
Regarding the Bucs, Carrier admitted he's a big LSU fan at home and the No. 5 overall pick of Devin White is worthy of applause. He'll "change the tone of your entire defense right off the bat," Carrier said of White.
Asked about the Bucs drafting a kicker again, Carrier's instant response was a hearty laugh. "Well, sometimes you gotta keep doing it until you get it right." he said. Carrier went on to say how especially important the position has become the extra point was moved back.
Pro Bowl Panthers kicker Graham Gano, for those wondering, was undrafted and had a rocky start with the Ravens and Redskins. He settled in once Carolina picked him up off the street in November 2012.