"Your Give-A-Sh*T Meter Better Be Real High If You're Going To Make Our Team"
March 1st, 2019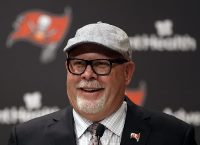 Joe has noticed a trend from new head coach Bucco Bruce Arians.
If you ask Arians (or get him talking about) effort, then he typically busts out the foul language, one of his many trademarks.
That happened when Arians was introduced at One Buc Palace and Joe asked him how he handles seeing. That was fun.
During one of his many media chats at the NFL Scouting Combine this week, Arians again got talking about effort and he got feisty.
"Your give-a-shit meter better be real high if you're going to make our team." Arians said.
Joe's going to go out on a limb and say effort is a huge hot button for Arians and bad effort won't be tolerated for a second. That hasn't been the case around here since Commander Schiano was patrolling the sidelines. Hallelujah!
Asked about players worried about keeping their job, Schiano said that's critical in any industry and "every player should have that fear."