Sweezy: Falcons Courted Me In Free Agency
March 25th, 2019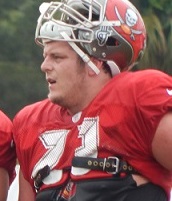 Joe heard a rare thing on sports radio last week, a J.R. Sweezy interview.
A Pro Bowl alternate for the Seahawks last season, the former Bucs free agent bust guard has a new team.
You remember Sweezy. The Bucs paid him $9 million in 2016 and he never practiced or played. In 2017, he found his way back to the field after back surgery and was nothing special while collecting another fat check. He kept rehabbing a late-season injury into 2018, and bonding off the field with his Bucs teammates, and then he was cut in late June when the Bucs apparently decided Caleb Benenoch was the man at right guard.
The rest is history.
Benenoch was brutal; Sweezy played through a broken foot in the playoffs last year and was honored by his peers with the Pro Bowl love.
Sweezy now will earn about $6 million from the Cardinals this year under a new deal in free agency. Joe was intrigued because Sweezy acknowledged on 98.7 FM in Phoenix that Atlanta was one of the teams coming after him in free agency.
That tells Joe that new Falcons offensive coordinator Dirk Koetter blessed Sweezy to the power brokers in Atlanta. And of course, that begs the question, why didn't the Bucs see that Sweezy was ready for a good season when he was on their roster last June?
Also in the interview was the discussion how new Cardinals offensive line coach Sean Kugler is "a badass." Kugler worked under Bucco Bruce Arians in Pittsburgh, and he visited Arians and sat in on Cardinals meetings in 2017. It was reported the Bucs tried to hire him this year but they ended up with the once-demoted Colts offensive line coach who was nearly responsible for Andrew Luck needing a new career.