"Risky Business"
March 18th, 2019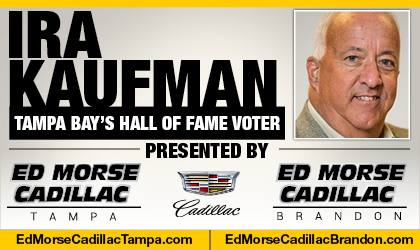 BY IRA KAUFMAN
At the moment, when Jameis Winston peers over his shoulder pads, he sees a big fat zero.
That's zero, as in the number of passes Ryan Griffin has thrown for the Bucs in games that count. Ryan Fitzpatrick has taken his skills to South Beach, leaving Griffin as Winston's untested backup.
The only other quarterback on the current Tampa Bay roster is Joe Callahan, whose lone NFL experience came for the Packers in the 2017 season finale, when he completed five passes for 11 yards.
For two seasons, Fitzpatrick's veteran presence gave Dirk Koetter a sense of security behind Winston. Buc fans will not forget how Fitzpatrick outdueled Drew Brees on the road and shredded the Eagles to help Tampa Bay to a 2-0 getaway while Winston served a suspension.
And while Koetter kept gushing about Griffin's potential, here comes Bruce Arians, who wouldn't know Griffin if he fell over him. If history is our judge, Arians won't feel comfortable going into the fall without a veteran backup. During his five years in Arizona, Arians always had an experienced quarterback behind Carson Palmer. Drew Stanton was in the desert for all five seasons and in 2017, Blaine Gabbert came along to join Palmer and Stanton.
When players report to One Buc Place for voluntary workouts in two weeks, you best believe Arians and his staff will be watching Griffin like a hawk. His play and his poise will need to speak loudly to the quarterback whisperer if Griffin intends to stick around at No. 2.
Plan B
Should Arians decide he's uncomfortable with an untested backup, there are still free agents out there to be signed.
The Titans just released Gabbert after grabbing Ryan Tannehill as Marcus Mariota's backup. Gabbert has shown very little since the Jaguars made him the 10th pick in the 2011 draft, but he has familiarity with Arians — and that counts. After all, three of the nine players selected by the Cardinals in the 2013 draft are currently on the Tampa Bay roster — Kevin Minter, Earl Watford and Andre Ellington.
The VP of Player Personnel for Arizona that year was a guy named Jason Licht.
And it wouldn't shock anyone if the Bucs end up signing free-agent guard Jonathan Cooper, chosen by the Cardinals with the seventh overall pick in 2013.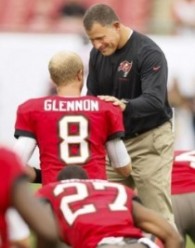 Gabbert isn't the only experienced quarterback on the market. You've also got Mike Glennon, Trevor Siemian, Blake Bortles, AJ McCarron, Matt Cassel, Robert Griffin and Colin Kaepernick.
Let's get this out of the way quickly … Kaepernick isn't coming here. This is a military town and besides, Kaepernick doesn't fit the profile of a backup who won't threaten Winston but can win a few games in his place, if necessary.
Adding Glennon makes some sense. At the age of 29, two years removed from his first stint in Tampa, Glennon is mature enough to realize his days as an NFL starter are over. He has the perfect temperament to offer Winston support and he won't cause division in the locker room.
It's not a stretch to think there were a few prominent Buc players who wanted Koetter to stick with Fitzpatrick last year heading into Atlanta after the bye week. Instead, Koetter replaced Fitzpatrick and stuck with Mike Smith.
The rest is history.
Going with Ryan Griffin as Winston's backup seems like risky business.
Glennon has proven to be a terrific teammate and he has thrown 35 touchdown passes as a pro. That's 35 more than Griffin.
If Winston can't handle Mike Glennon behind him, how's he going to handle Cameron Jordan in his face?