"Risk It" Needs To Start Now On Defense
March 11th, 2019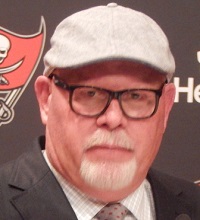 We all know who's in charge of the Buccaneers right now.
He wears a funny hat and big glasses, and he retired last year because he was too sick and fried to command a football team.
Bucco Bruce Arians can do no wrong right now at One Buc Palace. He is the man. And he's happy to tell you he lives by the motto "No Risk It. No Biscuit."
So Joe expects the Bucs to take bold risks this week, starting with the free agency negotiation/tampering period at noon today. Don't let anyone con you into thinking this team just needs to coach better and 10 wins will appear this season. Arians is far too smart for that.
Arians knows he needs a game-changer or two on defense and Joe fully expects the Bucs to sign one soon.
Again, Arians and Bowles are far too savvy to think they can coach their way out of the horrendous stench that's been the Bucs defense in just one season. There is no chicken salad coming from that Bucs secondary.
Kwon Alexander isn't that game-changer, at least not on Arians' timetable. Tyrann Mathieu might be. C.J. Mosley would be. This is the year to make the splash signing on defense — and follow that up with a defensive beast in the trenches with the No. 5 overall pick — not next year.
Arians also knows a better defense instantly helps the offense stay balanced and ups the odds that America's Quarterback, Jameis Winston, transforms into a top-shelf quarterback.
Joe can't wait to welcome the guy who's going to change the identity of this sorry Bucs defense. Hopefully that announcement comes in the next 24 hours.