Key Nuggets From DeSean Jackson's News Conference With The Eagles
March 14th, 2019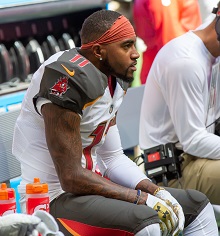 Arguably the worst free agent signing of the Jason Licht regime, DeSean Jackson, met with Philadelphia media today and dropped a few intriguing nuggets.
The first was Jackson reflecting on an event he attended while the NFL Scouting Combine was going on. Jackson was hundreds of miles away from where the Bucs hierarchy was embarrassing themselves by saying they wanted him on the roster. Per Jackson, he was at a March 3 autograph signing in Valley Forge, Pennsylvania. There, per Jackson, he was telling members of the Eagles in attendance that he was hoping to play for them soon.
Also of note was Jackson talking about how he's never had more than a couple of years with one quarterback. "It's kind of been rocky because you can't really establish that camaraderie with a guy," Jackson said, saying he was glad the Eagles are committed to Carson Wentz.
Jackson also talked about how "there's no shortcuts to success" and he'll earn everyone's respect because of how he comes to work every day. That doesn't exactly jibe with his attitude toward practice shared at the Super Bowl.
Asked about why he wasn't happy in Tampa, Jackson didn't mention any names or thank any Buccaneers personally, or the team. He said he loved the warm weather and "it just didn't really pan out."