John Lynch Talks Kwon, Pass Rush
March 18th, 2019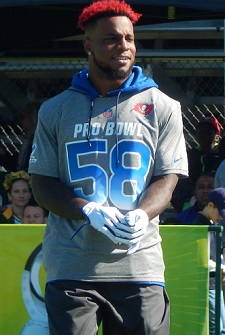 Yes, Joe sat through (suffered through?) the 25-minute news conference that introduced Kwon Alexander to the San Francisco-area media.
A couple of interesting nuggets emerged.
The first came as Bucs icon and 49ers general manager John Lynch talked about how Kwon raises the game of those around him. If that's true, the Bucs are in deep, deep trouble.
There is a reason Bucs officials and players called Kwon the heartbeat of the defense, which was sort of like calling a guy the heartbeat of a corpse. But again, if Kwon was a guy who made players better even if the results didn't materialize, then Joe sure hopes the Bucs find a way to replace him. So far, they have not.
Also, Lynch talked about the importance of the pass rush and gave a very short and sweet explanation Bucs fans will understand.
"I know in my career I learned the tough way that in Tampa, three Mississippi was a lot easier than the five Mississippi I grew to know in Denver," Lynch said. "And that's no disrespect to the guys that I played in Denver. It's just we had something special; it makes everybody better. You know, I think that's always been true in football and that holds true today."
Powerful take there by Lynch, as he sat alongside Kwon and beastly pass rusher Dee Ford, who was traded to San Francisco by the Chiefs and signed a new contract. And that's exactly why Joe wants the Bucs to land a manbeast defensive lineman with the No. 5 overall pick.
Fun fact: Kwon said ex-Bucs receiver Louis Murphy helped convince him to play for the 49ers. Murphy played there in 2017.