"The Best Smokescreen Now Is The Truth"
March 22nd, 2019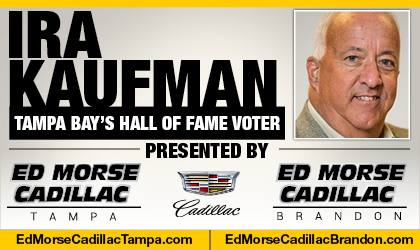 BY IRA KAUFMAN
The silly season is upon us, marked by more misdirection than Sean McVay's playbook.
We're in for a marathon game of Liar's Poker, otherwise known as the five weeks leading up to the NFL draft. Believe nothing that you hear and little that you see because this is the time of year when subterfuge is taken to the next level.
"Blowing a little smoke is fine," admits Hall of Fame executive Bill Polian, who built the Colts into a league power with a succession of impressive drafts. "We would sometimes use part of our visits to bring in players that weren't high on our list, just to create the idea that we were interested in them. We weren't above that. We didn't do it a lot because most of the visits you wanted to use for legitimate purposes."
Jason Licht has been known to cut loose with a few smokescreens of his own in an effort to confuse his rivals. He's also proven to be adept at cutting through the haze to develop a pretty good feel for what his rival GMs are really up to.
That's a lost craft, and Licht is good at it.
"It's that time of year and the misinformation is flowing," Arizona GM Steve Keim said last year before giving a pre-draft briefing to the local media. "I don't expect the next 20 minutes to be any different."
Next Up
Tuesday morning in Arizona, NFL head coaches will sit down with reporters for a breakfast session at the owners meetings. In between the oatmeal, the pancakes and the orange juice, the corn syrup will be poured on thick.
And if you take any of these coaches at his word, you're bananas.
"There will always be the smokescreens," says Falcons GM Thomas Dimitroff. "We are trying to put a boundary around that player for a reason. It's up to us to rely on all of the information we've gotten over the last 12 months. If you trust your system and if you trust your scouting staff, then you shouldn't be swayed by all the other noise out there."
NFL clubs guard draft boards like they are nuclear war codes.
Executives routinely send out false signals in an attempt to drum up draft-day trades while hiding their true intentions.
The Bucs are no different.
This will be Licht's sixth draft as Tampa Bay's GM and he'll be working with his third head coach. He and Bruce Arians plan to put up a united front until April 25 — avoid specifics and toss in a fib or two the rest of the way.
Heck, everybody does it.
''There's more and more noise out there,'' says Bears GM Ryan Pace. ''The draft's become bigger and bigger and bigger. So us as decision-makers, we have to block a lot of that out and focus internally on what we believe in and what we want to do. There's a lot of misinformation. There's a lot of smokescreens.''
Take A Breath
So the next time you see a report that the Bucs are having a private meeting with a defensive line prospect, cool your jets. It's all in the game. They may indeed have a legitimate interest in the young man, or it could just be Licht's 2019 salute to Polian's dance of deception.
Buckle up for the show, Buc fans. While the Mel Kipers of the world try to read the tea leaves, the only insiders privy to Tampa Bay's true draft plans are the people inside One Buc Place.
The rest is pure speculation, raised to an art form.
"The best smokescreen now is the truth," Arians says. "No one believes it."