Inside Vita Vea's Season
March 16th, 2019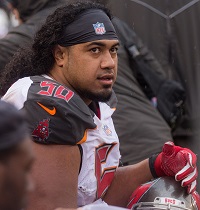 Joe learns plenty about the Bucs that never lands on these pages. It's a fortunate and unfortunate part of the business.
Things are told to Joe in confidence by Bucs players, coaches, employees (current and former), national media insiders and people intimate with the team or players. Mostly the info is given to Joe with an understanding it is not for public consumption. If Joe would release it without permission, then Joe would be an unethical ass and wouldn't be trusted again.
Joe would prefer to share everything with fans but it just can't work that way.
Sometimes, though, like in the case of Joe breaking exact details One Buc Palace's plan for the Bruce Arians hire before he arrived in Tampa for an interview, information is confirmed to Joe with a blessing to share. That head coach news was particularly fun to report because Joe got to watch other media burn up social media for days screaming "fake news" at Joe's pinpoint accurate report.
And man, that report further incited one prominent local Bucs media guy, who prior to the report was running around town last year whining about Joe and falsely claiming Team Glazer writes Joe fat checks regularly so Joe can thrive. Yes, really, a well known Bucs beat writer convinced himself that Team Glazer fronts the entire JoeBucsFan daily operation — and the writer spreads that nonsense freely. He even put the BS in writing!
See how much fun Joe gets to have behind the scenes?
(As legions of banned JoeBucsFan commenters know, Joe cares deeply about malicious misrepresentations of JoeBucsFan.com — and Joe suspects Team Glazer cares about being misrepresented, too. Either they'll set the guy straight or Joe eventually will find the free time to file legal paperwork or write about it here in detail.)
Back to behind-the-scenes Bucs information, Joe has some to share.
The popular notion that general manager Jason Licht turned around the play of Vita Vea with a November pep talk? That gets a hearty laugh at One Buc Palace, and in some circles it is not appreciated.
Yes, Licht had a heart-to-heart with Vea, but there were much bigger factors at play when it came to Vea's improvement.
Like Cameron Brate, who unbeknownst to fans and media played and practiced nearly the entire 2018 season with a hip issue that required surgery in January, Vea's health issue didn't just go away when he returned to the playing field in September.
His serious calf injury sustained in late July was something that lingered deep into the season.
Like Brate, Vea was cleared to play and off the injury report, but he was not exactly healthy. That late-season improvement by Vea was largely about finally getting back a majority of the power Dirk Koetter referenced when talking about Vea's bizarre feats of strength in the spring.
"What we've seen is a guy that his weight definitely has not affected him. He's got an excellent motor and he is a very strong human being," Koetter said in May. "I mean, you can ask those guards that are playing against him. I mean he's got a move with that inside arm; I've seen him lift 300-pound men off the ground with one arm. It's impressive, his strength.""I've seen him lift 300-pound men off the ground with one arm."
Koetter was not joking. Vea was that impressive early.
One thing Joe has learned about the Koetter regime is that the former head coach publicly made injury excuses for some players while keeping quiet injuries of others. That wasn't always understood or appreciated in the locker room, and you can put Vea's injury into that category.
But there was another part to Vea's late revival beyond improving health; Vea was shamed by defensive coaches in the locker room and responded positively afterwards.
Later in the season, coaches revealed defensive players' activity stats on the tablets given them to study film on their own time. Vea, a rookie, was lagging far, far behind teammates and he heard about it in the locker room.
Call it a wake-up call to be more professional.
The end result was Vea looking rather special in four of his final six games. And the Bucs are extremely excited by what a 100 percent Vea — physically and mentally — could look like this season.