Derrick Brooks' Role In Kwon's Contract?
March 11th, 2019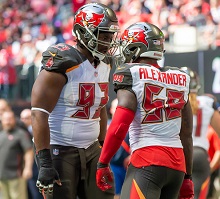 Allow Joe to take you back to November when The Sage of Tampa Bay Sports, JoeBucsFan.com columnist Ira Kaufman, penned a column about Derrick Brooks and the 49ers general manager, Bucs legend John Lynch.
More specifically, it was about Lynch endorsing his Hall of Fame friend and trusted colleague for an NFL general manager job.
You can click above and read it. Lynch noted how he talks football regularly with Brooks, who stays very close to the game as an NFL appeals officer, in addition to his TAMPA TWO duties and serving as a mentor to guys like America's Quarterback, Jameis Winston, in addition to Kwon Alexander and others.
Yes, that Kwon Alexander, the former Bucs linebacker who just broke the freakin' bank with a contract from Lynch.
As Joe drinks beer on this beautiful spring day, Joe can't help but wonder what kind of endorsement Brooks gave Lynch when it came to Kwon. Joe has to think Kwon got Brooks' blessing in a big way.
Joe has little doubt Kwon will be successful in San Francisco. But is he worth $13 million+ per season? Joe's wouldn't bet a nickel that Kwon lives up to that money.