Derrick Brooks Gets A GM Endorsement
November 28th, 2018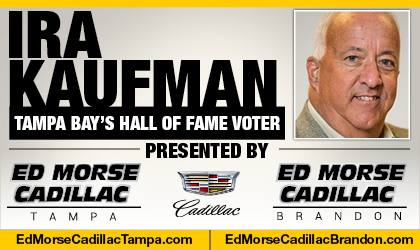 BY IRA KAUFMAN
At the age of 45, Derrick Brooks is ready for a new challenge.
The first-ballot Hall of Famer needs a fresh goal, having conquered virtually any venture he has set out to accomplish. The next logical step? An NFL front office position.
It's not like Brooks isn't busy in Tampa, given his various charities, his affiliation with Brooks-DeBartolo Collegiate High School and his work as an NFL appeals officer.
Somehow, he squeezes out some time each week to talk about the Bucs on his "Tampa Two" show for The Identity Tampa Bay and JoeBucsFan.com.
Brooks watched Sunday's Bucs-49ers game with another Tampa Bay icon John Lynch, who recently made the transition from player to GM.
During the course of three hours, Brooks got a first-hand look at the frustrations Lynch deals with on a daily basis, including the arrest of a player on the night before the game.
Lynch's weekend got off to a much better start.
On Saturday, the Tampa Sports Club held a stylish luncheon in Ybor City's Columbia Restaurant to welcome Lynch into its Hall of Fame. I pulled Lynch aside for a few minutes and asked him what the future holds for his former teammate.
"I think Derrick Brooks can do anything he wants to do," Lynch said. "I think he'd be tremendous as an NFL executive, I really do. First of all, he's a football junkie. He loves it. Derrick does a lot of things with the school and charity work, but the man loves football. I know that because we talk football all the time."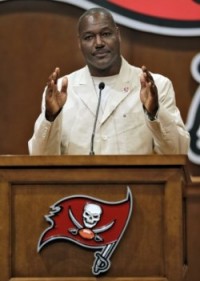 Brooks served as president of the Arena League's Tampa Bay Storm, devising budgets and learning the organizational ropes before the franchise folded a year ago.
"Derrick's one of the great leaders I've ever been around — and that's so much of this job," said Lynch, who watched helplessly as the 49ers tumbled to 2-9 with Sunday's 27-9 setback in Tampa. "He can help create a vision for the road map to success. His talent's limitless, it's just a matter of whether that's something he'd want to do and the timing's got to be right. These opportunities don't just fall off trees."
Brooks is married with four children and he's in no hurry to uproot his family. But if the right NFL franchise comes calling with the right position, his next stop could be the executive suite.
"You've got to know football inside and out and you've got to love the game because it's a difficult job with a lot of hours," said Lynch. "You've got to have that buy-in from your family because it's an all-in job."
This year hasn't gone the way Lynch envisioned, especially after San Francisco closed the 2017 season with a five-game winning streak. But the 49ers have struggled since quarterback Jimmy Garoppolo tore his ACL in Week 3.
In less than two years as a GM, Lynch has experienced the huge mood swings that come with the job. He says Brooks is equipped to handle the highs and lows.
"Derrick's got everything you need," Lynch said. "Believe me, he'd be successful. Very successful."
Now in his 40th year covering the NFL, Ira Kaufman is the most revered sports personality and writer in the Tampa Bay area. He scored a full-time seat at JoeBucsFan.com world headquarters in July of 2016, and Tampa Bay's only Pro Football Hall of Fame voter busts out columns here every Monday, Wednesday and Friday. His  award-winning podcasts fire Tuesdays and Thursdays. You can also hear Ira on SiriusXM Mad Dog Radio Wednesdays at 5 p.m. Also a TV star, Ira is part of the FOX-13 Tailgate Sunday NFL show at 10:30 a.m. "The Sage" enjoys beet salads, Riesling, tennis, Bette Midler, Chiefs victories and needling Joe. …Don't forget to WATCH IRA AND DERRICK BROOKS on the new TAMPA TWO show from The Identity Tampa Bay and JoeBucsFan.