Bucs Send A Big Gun To Kentucky
March 22nd, 2019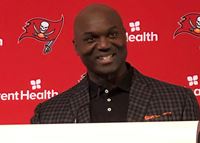 College Pro Day season has the read-between-the-lines crowd all hot in the pants.
And considering defensive coordinator Todd Bowles was blessed to do whatever he wants, perhaps today their excitement is valid.
The University of Kentucky is having its Pro Day and Tom Pelissero of NFL Network is Twittering that Bowles is there in the flesh this morning.
Of course, the big fish at Kentucky is edge rusher Josh Allen, who many consider an elite defensive end prospect worthy of a top-5 pick.
Joe will play along. It is a big deal that Bowles is there versus just the defensive line coach or even general manager Jason Licht himself. Joe believes Bowles wields enough power to take Allen off the Bucs' draft board if he sees or smells a red flag.
Joe hopes Allen has a monster workout and impresses in the interview.