About Drafting Kwon's Replacement
March 20th, 2019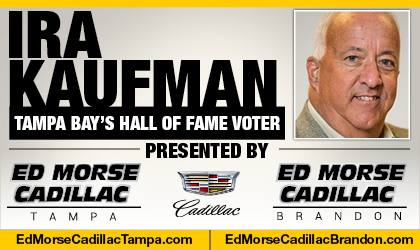 BY IRA KAUFMAN
All of a sudden a 5-11 football team is going to get picky?
There's quite a bit of chatter out there in Buc Land suggesting Tampa Bay can't afford to choose a linebacker at No. 5 in the 2019 draft.
That depends on the linebacker.
When it comes to LSU's Devin White, it's an entirely plausible pick. I can hear the pass-rush advocates screaming in unison — you can't take White over a defensive end.
Says who?
If the Bucs stay at No. 5, they can't afford to make a mistake.
There's been too many during the NFC's longest playoff drought. Nobody knows this better than Jason Licht.
You don't have to select a Hall of Famer, but you'd better come up with a player who earns a second contract with the Bucs and is in the thick of the conversation when Pro Bowl rosters are debated.
White fits the profile and the departure of Kwon Alexander leaves a gaping hole in the middle of the field. Add in the uncertainty surrounding Kendell Beckwith and you can surely make a compelling case that inside linebacker is a major position of need for the 2019 Bucs.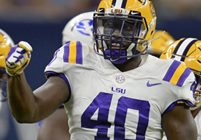 While many draft pundits point to a strong defensive line crop, pass rush prospects tend to have a high bust rate. Dante Fowler, Dion Jordan and Solomon Thomas were each selected at No. 3 in recent years and have yet to make an impact on the pro level.
Linebackers like White can do wonders for any defense.
Copycat Vibe
The Colts drafted Darius Leonard last April and promptly vaulted from 30th in scoring defense to 10th while Leonard earned All-Pro and Defensive Rookie of the Year honors. The Bears emerged as the NFC's top-rated defense last year and while Khalil Mack was the catalyst, let's not forget the contributions of Roquan Smith.
Chosen at No. 8, Smith was credited with 121 tackles, 5 sacks, 8 tackles for loss and 5 pass breakups.
"Yeah, I see a lot of similarities," White said when asked to compare himself to Smith. "He is a guy with a high motor as well and he makes sideline-to-sideline tackles. He can get in between the tackles and is great in coverage, He is athletic, our measurables are about the same. We both won the Butkus Award. He is a great player who had a phenomenal rookie season and I need to do the same."
We're not talking about a 2-down linebacker here. White's stunning 4.42 speed marks him as a potential major factor in pass defense. And in a division with Alvin Kamara and Christian McCaffery, a linebacker with White's athleticism can make a big difference.
In the past two seasons, Kamara has tormented the Bucs with 26 receptions out of the backfield for 316 yards, catching 81 percent of his targeted passes. McCaffrey is right behind, catching 21-of-27 passes sent in his direction against Tampa Bay since 2017.
"When you have linebackers that can't cover, it's a liability and you will get picked on repeatedly," says Daniel Jeremiah of the NFL Network. "It is tough to hide out there when you have a linebacker who can't cover. White's going to be able to run and help match up against some of the better tight ends and even some of these backs they're using in the passing game. That's a huge asset.

"I had a little bit higher grade on Roquan last year, but Devin is not far behind. I think he's somebody that wherever he goes, he's going to plug and play. He's going to be a Rookie of the Year candidate who's going to collect a ridiculous number of tackles and explosive plays."
White has also displayed impressive skills as a blitzer and seems like a natural fit at Mike in a 4-3 alignment or as an inside linebacker when Todd Bowles shifts to a 3-man front.
It would be foolish to dismiss White as a logical first-round candidate for the Bucs. He has the physical tools to lead an overhaul under Bowles and the intangibles to supplant Alexander as the new face of a new defense.
"You can't be a guy that shies away from leadership," White says. "You can't be a guy that doesn't study and knows what he is doing on the field. You're the quarterback of that defense, You have to be a playmaker and an absolute stud. I am not shy. I have to be able to go into the league, win guys over and start leading those guys."