Bruce Arians Talks Good Coaching Netting Bad Results
March 3rd, 2019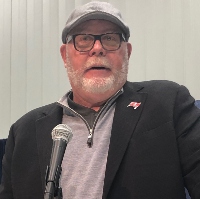 Head coach Bucco Bruce Arians learned a valuable lesson when he was off the sidelines last year — one that might apply to the Buccaneers.
Remember that famous explanation of Tampa Bay's red zone woes in 2017? "We chose to suck," was how offensive coordinator Todd Monken explained it months after the fact.
It was — and is — easy for Bucs fans to blame Dirk Koetter's coaching staff for the Bucs' failures to score points. Moving the ball the past two seasons was no problem. Scoring was the problem. Heck, America's Quarterback, Jameis Winston, put up just 20.8 points per game in the second half of last year.
Coaches deserve the blame, but how much?
Arians told PFT Live last week that a big thing he learned last year as a CBS broadcaster attending Friday practices for the games he'd call on Sunday was that some well-coached offenses ran smoothly but executed poorly on Sunday. And teams sloppy with the ball on the ground on Fridays were lights out on Sundays. The frequency of that dichotomy seemed to stun Arians.
Was that often the case with the Bucs? Were they Sunday chokers who got the job done on Friday?
Joe knows Chucky ripped the Koetter Buccaneers' practice habits in a chat with Ira Kaufman. Unfortunately, the meat of in-season practices are closed to regular media.
Ira asked Chucky what he saw out at Buccaneers practice that week as he prepared to call the 2017 Bucs-Falcons game for Monday Night Football. Those guys get to watch all of practice. Ira relayed the conversation on his podcast soon after.
"'Awful. Awful. Practice habits, terrible. Ball on the ground all the time.' Ira said quoting Chucky.

"He was appalled. Gruden was appalled at Bucs practice, maybe more than one. It might have been multiple practices. That was during the five-game losing streak. The Bucs were still playing hard, but they were sloppy. They were sloppy. It took Gruden about 90 seconds to realize just how sloppy they were. He was not impressed. Was that a factor in him joining the Raiders? No. There were 100 million factors. He was absolutely unimpressed by the Buc practice."
Joe's just wondering how Arians' learning experiences last season might help him better understand gameday performance. If he picked up a couple of things, then that should only help a Bucs offense that's been known for leaving a lot of points on the field.