Beau Allen Agrees To Salary Slash & Roster Spot
March 14th, 2019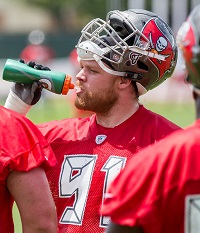 UPDATED 8:55 a.m. – The Bucs are chasing salary cap nickels and they got serious about it yesterday, doing exactly what they should have done to Doug Martin in March 2017 — used their leverage to cut his pay before they foolishly allowed him to return at full salary after a 2.9-yards-per-carry season and a three game drug suspension.
Perhaps Jason Licht is evolving.

Tom Pelissero of NFL Network is reporting this morning that Bucs defensive tackle Beau Allen agreed to shave $1 million off the $5 million due him in exchange for a roster spot guaranteed.
That means he's at no risk of getting cut as an August salary cap casualty. And it's a safe bet that idea wasn't Allen's.
Smart move by Allen, and Smart move by Licht, who obviously overpaid for Allen last year. Speaking of overpaying, anyone see Vinny Curry with a new team yet?
UPDATE: Pelissero went deeper into the terms of Allen's renegotiation via the Tweet below. He can score his lost money back via incentives, and hit the market as a free agent next year.
A little more on Beau Allen: The $4M is fully guaranteed and he can earn $1M in incentives to get back to his original number. And the last year of his deal was deleted, meaning he'll have a chance to hit the market next March. https://t.co/25Lz5NR26S

— Tom Pelissero (@TomPelissero) March 14, 2019