Arians Slips; McCoy Slides
March 27th, 2019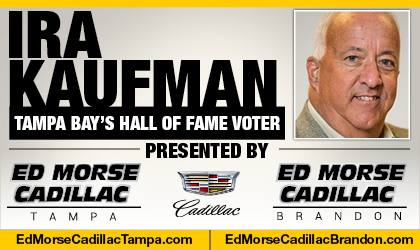 BY IRA KAUFMAN
Bruce Arians worked on his golf game over the weekend in nearby Chandler, but by the time he got to Phoenix, he missed a 2-foot putt.
On Saturday, Arians played host to his foundation's annual golf tournament, a fund-raiser for helping children in the court system as a result of abuse or neglect by their families.
Three days later, his candor got the best of him during a breakfast with the Tampa Bay media at the NFL owners meeting. Arians shouldn't have been surprised when asked about the status of Gerald McCoy, a six-time Pro Bowl defensive tackle and the second longest-tenured Buccaneer behind Demar Dotson.
At the combine in Indianapolis last month, neither Arians nor Jason Licht offered up any assurances that McCoy would be on the roster in 2019. But when Arians waffled once again about McCoy during Tuesday's breakfast, he added a few choice remarks that undoubtedly did not digest very well in the McCoy household.
"He's not as disruptive as he was four years ago," Arians said. "He's still a good player."
Those comments won't enhance Tampa Bay's chances of getting much in return for McCoy in a trade. All Arians needed to say was "We're in a bit of a salary-cap crunch right now and we'll do our best to ensure that Gerald remains a Buccaneer."
Instead, Arians spoke out of turn. He dinged McCoy, who just turned 31, and hurt Tampa Bay's leverage in the process.
Fuzzy Value
If Bill Belichick can use the line "we'll see," 21 times while fielding questions during his media breakfast, surely Arians could have tossed out the same phrase regarding McCoy's future.
Now the football is on McCoy's side of the line of scrimmage. The Bucs don't feel he's a $13 million player at this point of his career — and they're not wrong.
Despite the imposing presence of Jason Pierre-Paul off his right shoulder last fall, McCoy failed to make the impact the organization envisioned. His 28 tackles were matched by Vita Vea, who started only eight games. His six sacks were less than Carl Nassib. He hasn't forced a fumble in the past two seasons.
Still, there's a place for McCoy on this football team … at the right price.
He's still a positive representative for the franchise, without a whiff of scandal. Let's not forget what Licht said about McCoy in the middle of the 2014 season when announcing a 7-year contract extension.
"We are happy to reward someone that has a rare work ethic, which not only makes him an elite player, but serves as an example for our entire team," Licht said. "His commitment, character and leadership are attributes that make him a truly special person, who will play a pivotal role in our future success."
Well, that future is now, and McCoy must decide whether he wants to remain in pewter going forward. He's already done enough to merit a spot in the Buccaneer Ring of Honor. He will be in the conversation when it comes time to select four defensive tackles for the league's All-Decade team.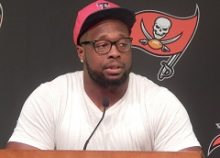 But the Bucs want to pay McCoy for what he can do going forward, not for his nine years toiling in the trenches. That's fair.
He's already a rich man in line to make a ton more money.
Will he agree to make a half-ton, instead?
If McCoy stands his ground at $13 million, he's probably toast as a Buc. Maybe he wouldn't mind forcing a trade at this point to a franchise that isn't saddled with an 11-year playoff drought.
The brutal honesty of Arians got the best of him in Phoenix. He hurt McCoy's feelings and in the process, he hurt Tampa Bay's bargaining power. With players expected to trickle in for offseason conditioning next week, McCoy has a big decision to make.
In the words of Mr. Belichick, we'll see.
Ira Kaufman began covering the NFL as a New York Giants beat writer in 1979. He arrived on the Buccaneers beat in 1985, and the corporate leash finally was removed from his neck when he joined JoeBucsFan.com in July 2016. The award-winning Ira Kaufman Podcast fires twice per week, and Ira's columns appear thrice weekly, except when Ira is on special assignment. Tampa Bay's only Hall of Fame voter also is a popular guest on various national radio and on local TV. He's also co-host of TAMPA TWO at The Identity Tampa Bay, which returns to its regular format in March.