A Welcome And Necessary Reboot
March 11th, 2019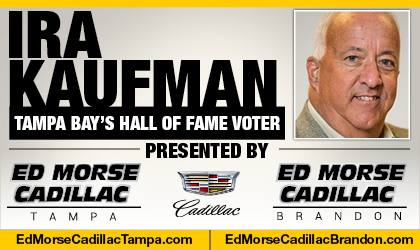 BY IRA KAUFMAN
This Buc roster is about to undergo a massive reorganization, and that's a good thing.
DeSean Jackson simply isn't a good fit in Tampa and it appears Adam Humphries will soon be too rich for Buc blood, so Jameis Winston won't have as many proven targets to throw to this fall.
That's a good thing.
Jackson's salary will be off Tampa Bay's books after he and Winston flunked Chemistry 101 the past two seasons. The Bucs will miss Humphries' sure hands and precise routes, but he's the No. 3 wide receiver on this team and Chris Godwin will flourish opposite Mike Evans.
That's a good thing.
Besides, with Evans, Godwin, O.J. Howard and Cameron Brate still on board, can a new coaching staff legitimately complain about a lack of quality pass catchers?
For the past few years, this roster has been top-heavy with targets. Bruce Arians admitted as much at the combine, where he was asked for his preliminary impressions after watching the Bucs on tape.
"I can honestly say I've never walked into a situation with skill players of this magnitude, quarterbacks, receivers, tight ends, and running backs that are there already," Arians said in Indianapolis.

"Obviously, we've got a little bit of work up front and then defensively, I love the speed that we have. It's just finding the right pieces and putting all the puzzle together."
This is a perfect time for this franchise to reset. The time is right for Jason Licht and his scouts to allocate more resources to the trenches — where most games are won and lost.
Low-Yield Investments
Despite all those targets, the Bucs are coming off consecutive 5-11 seasons. Despite all those "skill" players, Tampa Bay's scoring offense ranked 12th in the league with an average of 24.8 points per game.
And as the season progressed, that attack withered, even as the defense improved.
The Bucs averaged 28.6 points in the first eight games and only 20.9 in the final eight. That's a drastic drop, and you can't blame it on injuries. The starting line barely missed a snap and Howard was the only significant offensive player sidelined.
The arrival of Arians should signal a new emphasis for this organization.
There will be a new slot receiver at One Buc Place. He won't make as much money as Humphries in 2019 and he'll need time to develop a rapport with Winston, but he'll be coached up.
Instead of getting into a bidding was for Humphries, the Bucs would be wise to move on and fortify positions of need like right guard, linebacker and defensive back.
Forced Precision
Unlike other years, Licht isn't approaching mid-March flush with cash to spend.
That's a good thing.
Smart teams often wait until the initial wave of free agency passes, leaving bloated, overpriced players washed over the field in a green tide.
"It's the first year that I've gone into free agency without an abundance of cap space to use, here, being with the Bucs," Licht said. "In a lot of respects, we're very excited about where we're at, being able to hopefully retain our good, young players. That's not to say we won't be active in free agency, because there's different levels of free agency.

"There's the first-day, high-priced, splashy guys, and then there's guys extending all the way into Week 3 and 4, where you can get some good value, guys we've actually had more luck with in the past. Those are the types of guys and the types of deals that make my scouting staff excited. Those are usually the hungry guys."
The start of a new NFL calendar year is an opportunity to reshape your roster. Embrace it.
If Humphries and Jackson are productive elsewhere this fall, the Bucs should have no regrets. Winston will have to make do with a Pro Bowl wide receiver, a third-year pro who averages almost 15 yards per catch and the best tight end tandem in the league.
Now go address a plodding run game and a defense riddled with question marks. Free agency is here, and it's time for a reboot.
That's a very good thing.
Ira Kaufman began covering the NFL as a New York Giants beat writer in 1979. He arrived on the Buccaneers beat in 1985, and the corporate leash finally was removed from his neck when he joined JoeBucsFan.com in July 2016. The award-winning Ira Kaufman Podcast fires twice per week, and Ira's columns appear thrice weekly, except when Ira is on special assignment. Tampa Bay's only Hall of Fame voter also is a popular guest on various national radio and on local TV. He's also co-host of TAMPA TWO at The Identity Tampa Bay, which returns to its regular format in March.